How beautiful is this broom! I was after a unique, handcrafted, functional present for my sister and her husbands wedding present – aside from it looking just like a witches broom, which I love – this traditional northern European style Besom broom is made right here in NZ.
Bill Blair from Coppice Crafts in Oamaru creates Besom's from dried silver birch twigs and willow which is used for the handle.
Used in a wide sweeping motion, more like rowing a boat than sweeping inside a house with a smaller house broom, it covers a wide area in the yard or on your cobbles if you have them.
(This is not the flying model – they are proving a little difficult to produce at this stage!)
Bill has worked as a traditional wood craftsman since 1977. Coppice Crafts are based at the Red Sheds in the seaside village of Kakanui which is 10kms south of Oamaru.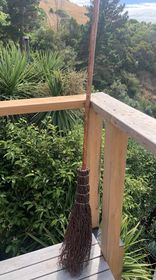 A handcrafted Besom Broom is $100.00 plus standard freight within NZ
Also available are handcrafted Trugs (carry baskets) rakes, pitch forks, log carriers and shovels.
"Having a Coppice Crafts item is owning a functional hand crafted piece of history – that always performs its task well."
To view the entire selection and place an order, click here.

Should you find yourself visiting or passing through Oamaru, Bill warmly welcomes you to visit and watch as he makes these beautifully crafted items. You can call ahead to ensure he is available and not out sourcing local materials from near the river, and then he will arrange to have any items purchased couriered to your home ready for when you arrive back from your trip.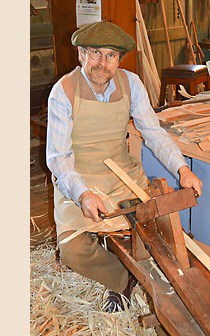 Bill opts to avoid using power tools preferring the more natural process of a shaving horse, a simple wooden vice, along with a sharp draw knife. Linseed oil and bees wax are applied to wooden products for a non-toxic and pleasant smelling finish. You can read more about the techniques involved here.