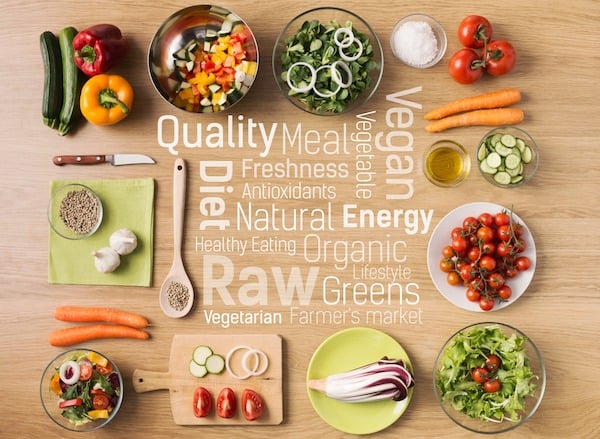 Are you thinking about changing the way you eat for the long term?
This guest post looks at two options…
The differences between Keto, which is a high fat high protein based diet with low carbs, and a Vegan diet, which is totally plant based and excludes eggs, dairy and any other food that comes from animals or insects.
Similar to other dietary fads, the Keto diet has come to existence as another weight-loss strategy to promise quick results by just checking what you eat. This option requires one to spurn carbohydrates in favour of high-fat and high-protein foods such as cheese and meats that alarm a lot of health experts.
That being said, plant-based diets, Vegan in particular, are seen as a better alternative.
So, what are the dangers of a Ketogenic Diet?
It seems like a lot of people are hailing Keto these days as the best diet ever. But if you are considering it, you'll probably want to know the dangers of this diet before you decide if it is right for you. Showing you the top three reasons to quit Keto is the best way to make you shift to plant-based meal plan like the Vegan diet.
Is Keto really not good for you?
1. Ketoacidosis in Diabetics
People should not dive into the Keto bandwagon if they have type 1 or type 2 diabetes, unless they have a permission from their physician. If so, it should be done in close supervision by health experts for these diabetics to be mindful of their blood sugar and glucose levels several times a day.
The Keto diet could trigger ketoacidosis, a condition that is dangerous for anyone with diabetes. It occurs when the body stores up too many acids which are produced as byproducts of burning fats. The blood then gets too acidic resulting in probable damage in the kidneys, liver, and brain and could be fatal when left untreated. 
2. Weight Regain after Keto
Some experts also say the Keto diet is just a quick fix. Usually, it is not sustainable to lose weight and lower blood sugars because the diet is too restrictive. Not to mention that keto-compliant or keto-branded foods are quite costly. There are also concerns that weight regain occurs if you do not stick carefully to the diet and you can end up gaining more than one has lost on the diet.
Keto is in fact not considered as an appropriate plan to follow long-term. Experts advise that it should be done for 1 to 3 months, followed by a more sustainable diet plan such as vegan diet for weight loss. Back-and-forth weight fluctuations can result from disordered Keto eating.
3. Risks of Heart Disease
Since keto is a high-fat diet, health experts are concerned about the increased risks of heart disease. People on a ketogenic diet, especially those doing it without their doctor's supervision, are at a high risk of increasing their cholesterol levels.
The goal is to have a nutrient-rich diet. So if you are not doing this because you saw a lot of individuals losing weight by following a high-fat, low-carb diet like keto, then you are only promoting disease in the body and heart ailment is just one.
Go for a Nutrient-rich Diet, Go Vegan
Keto entails a low-carb, high-fat meal plan that promises quick results in reducing one's weight to one that is desirable. However, more and more health experts worry about its side effects and complications. The health risks can be both short or long-term. So instead of having a keto diet, people who have been wanting to get rid of the extra pounds should consider adopting nothing but the best plant-based pre-workout meal to match with their exercise routines. For instance, one can go for a vegan diet which only contains plants such as fruits, grains, nuts, and vegetables. And the best part of this nutrient-rich meal plan is that you will no longer be exposed to the aforementioned dangers of the ketogenic diet.
What's your plant-based pre-workout meal in mind?
Here's an advice that most people more often than not neglect when it comes to weight loss: always check with your doctor which diet best suits you before joining any bandwagon. Do not just try one without the guidance of a health expert, say a nutritionist. People have different body types and metabolic processes, so the way they react to food may be different from others. Hence, be wise as there are no short-cuts in life, not even in choosing the best diet for you. 
Mheyr is a freelance web content writer who also personally manages her Facebook Page and Youtube Channel with over a thousand subscribers, showcasing her prowess as a Digital Creator.
The views in this blog post are not specifically those of Green Goddess. Take extra care when choosing a diet that is right for you if you are breastfeeding or trying to lose baby weight. The ultimate guide to successfully losing baby weight offers tips for looking after yourself post pregnancy.