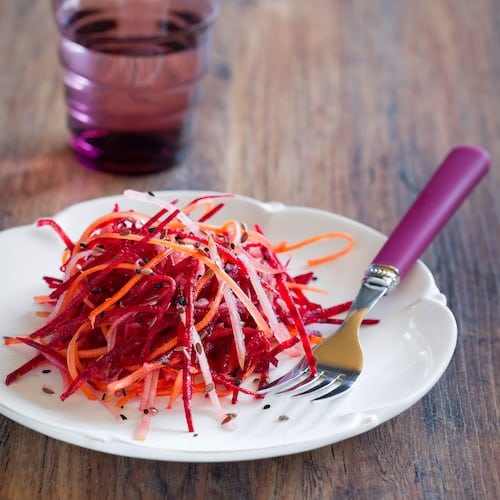 This cleansing salad has a delicious orange vinaigrette dressing. It's lovely on it's own, but I think it's best as an accompaniment to your main dish. It looks colourful and vibrant, while the flavour of the orange vinaigrette is light, tangy and sweet.
Beetroot, Carrot & Pear Salad
1 large beetroot, peeled
2 large carrots, peeled
2 large crunchy pears, cored
1 small lemon
Black and / or white sesame seeds
Optional extras … ½ cup hemp seeds; ½ cup sultanas (steeped in boiling water beforehand); ½ cup chopped walnuts
Dressing
Juice of one orange
2 Tbsp balsamic vinegar
2 Tbsp Manuka honey
4 Tbsp olive oil
Salt and pepper to taste
Method
Thinly slice all the vegetables setting aside the pear. Squeeze the lemon over the pear and toss carefully, the lemon will help to stop the julienned pear from going brown.
Toss together all the julienned vegetables carefully. Make the dressing by combining all of the ingredients and mixing well.
Dress the salad with the dressing and sprinkle over the sesame seeds and any other toppings you are using.
Serve immediately. On it's own this salad serves four.