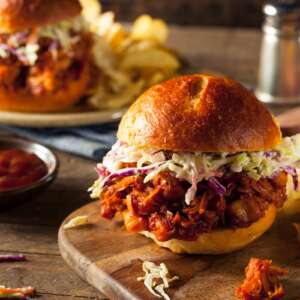 BBQ Pulled Jackfruit Sliders are so tasty and filling, you won't miss meat at all. Grab a can of jackfruit from the supermarket and make this clever vegan 'pulled' meat substitute, perfect for sliders, bread rolls, buns or on top of Vogels. Add a handful of slaw and serve at your next BBQ.
This recipe makes 16 sliders if you don't load them up too much.
BBQ Pulled Jackfruit Sliders
1 tbsp olive oil
1 onion finely chopped
1 tsp ground cinnamon
1 tsp ground cumin
2 tsp smoked paprika
2 tsp chipotle sauce or chipotle Tabasco (optional if you like it spicy)
1 tbsp apple cider vinegar
6 tbsp BBQ sauce (our favourite is Bulls Eye BBQ Sauce Original)
200g Watties Chopped Tomatoes Italian Style in a can
2 x 400g cans young jackfruit in brine (Natures Charm or Ceres Organic are both good)
2 x packs 8 slider buns (smaller than regular burger buns)
Method
Drain the jackfruit reserving 200ml of the brine/water. Cut the jackfruit through lengthways and set aside.
Heat up the oil in a pan, add the onion and cook until soft (around 10 mins). Next add the cinnamon, cumin and paprika and cook for a further 5 mins, then add the chipotle sauce if using, and the apple cider and bbq sauce. Stir well and add the tomatoes, jackfruit and 100ml brine/water, stir again, cover and simmer for 10mins.
Check and see if you need to add any more of the jackfruit brine/water, add it if you do then simmer for 20 mins stirring often to help break down the jackfruit. After 20 mins take the lid off and cook a further 10 minutes keeping an eye on the consistency – add a little water if getting too thick.
Heat up your sliders in the oven and while heating shred the jackfruit with a fork and add more BBQ sauce if necessary. 
Cut the sliders and put plant based spread on either side, add the BBQ jackfruit, season with salt and pepper if required then top with slaw and enjoy!
If you don't have sliders, BBQ pulled jackfruit is just as good on Vogels with slaw or in regular buns.
Click here for more information about what jackfruit is, the benefit of trying it, and other ways to use it in your meals.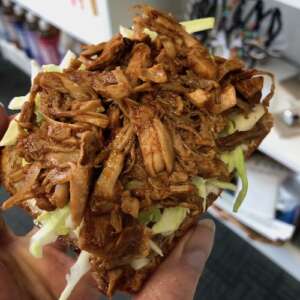 BBQ Pulled Jackfruit on vogels
Tess Edens Jackfruit Guide