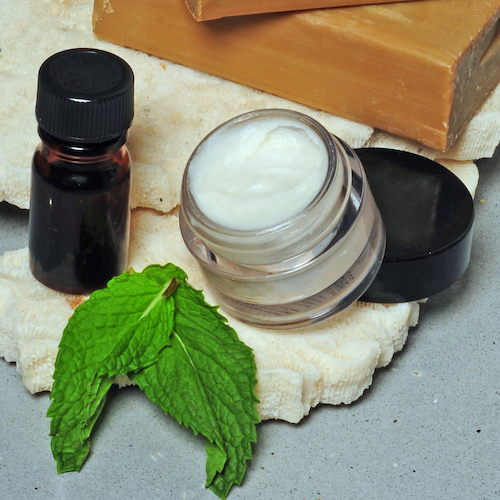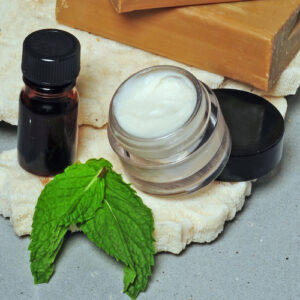 During our quest for the perfect skincare products we'll find many different ingredients and solutions, all promising to give us the skin we desire. From serums designed specifically for menopausal skin to cruelty-free and vegan makeup brands, there's a variety out there that can overwhelm us at first if we don't know where to look. 
Among these solutions and products are essential oils. Since ancient times essential oils have been integral to natural and holistic skincare. These powerful oils harness various botanical therapeutics to address nearly every skincare need, from the rich skin-softening characteristics of Rose to the wound-cleansing benefits of Myrrh.
Essential oils are easily absorbed through the skin and can even destress and relax your mind and body. In this article we'll dive deep into the benefits of essential oils on your skin and what oils you can incorporate into your regimen depending on your skin type. 
5 Benefits Of Essential Oils On Your Skin 
Soothes Your Skin
The soothing effects of essential oils on the skin help promote skin rejuvenation. Ingredients like Lavender, Orange, and Lemon, known for their antibacterial and aromatic properties, are excellent choices for a destress skincare regimen. They have a calming smell and aid in providing your skin with natural hydration.
Reduces The Appearance of Scars 
Essential oils are a safe approach to addressing skincare problems since they are infused with the benefits of natural ingredients and plants. As a result, they help decrease scars, stretch marks, and signs of ageing, such as wrinkles and fine lines. 
The right oils will also help tighten your skin, thus healing it and reducing wrinkles. It also helps in protecting you from UV damage.
Combats Itchiness 
Is your skin feeling itchy or irritated? Without proper care, these can lead to rashes that will leave marks on your skin. Essential oils like Tea Tree can help tackle that itchy sensation or redness. They can also help prevent acne and provide your skin with natural nutrients. Oils like these are an excellent pick for people suffering from eczema.
Minimises Signs of Ageing 
With ageing, our skin becomes dull. Fine creases, wrinkles, etc., become commonplace. One of the best benefits of essential oils that contain vitamin C is controlling the early stages of ageing. Lemon Oil, Orange Oil, and other citrus oils work wonders to fight the effects of ageing. They improve skin elasticity, making it softer and plumper.
Improves Skin Texture 
Do you notice your skin texture changing when the weather shifts? This whole phenomenon makes maintaining a consistent skincare routine a bit of a challenge. It's a good thing there are essential oils like Bergamot and Lemon that help in lightening the skin and improve its texture. They contain citrus properties that contribute to a beautiful and radiant glow.
The Essential Oils That Are Compatible With Your Skin Type
Wondering what essential oils are perfect for your skin type? We've listed them below for you! 
Normal Skin 
The ideal essential oils for this skin type should have balancing effects since they will assist keep the skin's natural harmony and moisture levels. Try: 
Rose Geranium has anti-inflammatory properties to lessen potential issues such as allergies and acne. It can also regulate your skin oils. 
Lavender promotes healthy skin by supporting optimal hydration. 
Ylang Ylang balances your skin both internally and externally. It also helps prevent dryness and excessive sebum production. 
Neroli has natural cleansing and antioxidant properties and aids in regulating surface oils. 
Oily Skin 
It's always best to stick to natural ingredients for oily skin as they can help purify your skin and cut down on excess oil. Freshen up your skin with: 
Cypress is a potent oil with antimicrobial properties that help clear your skin and reduce shine. 
Tea Tree removes excess sebum and is known to have natural antibacterial properties. 
Lemon and Bergamot are recognised for their anti-inflammatory and antibacterial characteristics, which help improve the complexion of people with oily skin. Most citrus oils, like Sweet Orange, Mandarin, and Grapefruit, also work well for oily skin.
Dry Skin 
The ideal essential oils for this skin type have relaxing, soothing, and hydrating properties. To enrich your dry skin, go with: 
Frankincense is renowned for its rejuvenating effects on dry and mature skin types. It also has natural relaxing effects on the skin. 
Chamomile naturally reduces inflammation, itchiness, and discomfort brought on by dry skin. 
Rose and Jasmine are very gentle on the skin and are known for improving skin moisture and dullness. 
Acne-Prone Skin
Essential oils for this skin type can naturally remedy milder cases of acne due to their anti-inflammatory, antimicrobial, and clarifying properties. Clear up acne with: 
Lemongrass has natural astringent properties, making it a fantastic way to improve acne-prone skin. Additionally, it might lessen the appearance of acne scars.
Tea Tree can help treat mild to moderate cases of acne due to its broad-spectrum antibacterial and anti-inflammatory effects. 
Sensitive Skin 
People with sensitive skin often cannot rely on conventional skincare products as they contain strong fragrances and dyes. To help calm irritation or sensitivity, try: 
Rose naturally soothes the skin and has anti-inflammatory and hydrating properties. 
Chamomile can help reduce the appearance of rashes and soothes irritated and inflamed skin. It also aids in skin hydration.
Give Your Skin A Treat With The Goodness of Essential Oils 
Essential oils are used for various skincare concerns because of their natural anti-inflammatory, antibacterial, and calming properties. But beyond skincare, they also help when dealing with stress and anxiety. 
Of course, while essential oils are worth the try, it pays to do thorough research before applying them all over your skin. If you have any underlying diseases like eczema, rosacea, or psoriasis, talk to your dermatologist before using them. Stop using essential oils right away should you have any adverse reactions.
For more tips and information about creating a natural skincare routine, better cleaning habits, and delicious recipes, head to the Green Goddess Blog!