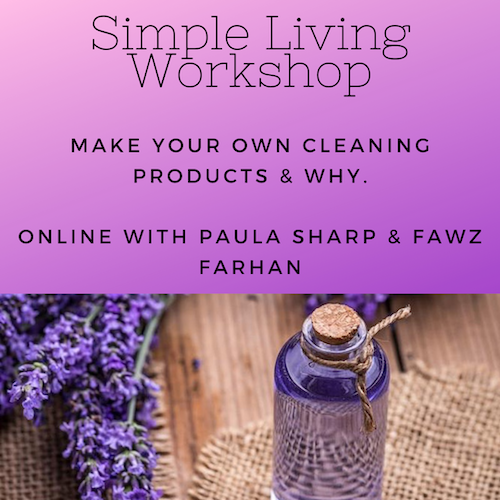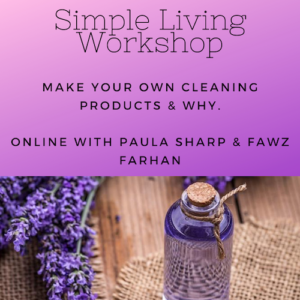 Join Paula Sharp Nutritionist & Fawz Farhan Pharmacist on Wednesday the 11th May, 8pm – 9pm for this online workshop and put yourself in charge of your cleaning products.
Cut the chemicals from your life and find out why this is the key to a a better life style. Learn about the power of plants and come away with your own crafted products to give your home a fresh nature-inspired spring clean.
Minimising our exposure to chemicals and toxins in the home is good for our health and the environment. With your plant-based chemical- and plastic-free home products you'll be helping yourself, the planet and saving yourself money too!
You'll find out which herbs, foraged plants and kitchen-cupboard stock items you can use to make non-toxic household products to keep your home clean and fragrant.
Simple Living Workshop, How To Make Seasonal Natural Cleaning Products & Why
This workshop consists of …
An introduction on health and wellbeing from nutritionist Paula Sharp and botanical pharmacist Fawz Farhan.
An insight into how we are exposing ourselves to chemicals and toxins at home and how we can minimise it and bring nature into our home – even house plants can neutralise the effects.
Sharing experiences of home remedies and family favourites that have been passed down generations.
Key facts on 4 plant inspired staple ingredients we can use in home products.
A chance to make your own creation during our live make-along.
By the end of the session you will have gained confidence in natural self care, prepared products to share with family and friends and made new friends with a shared love of all things botanical.
An ingredients list and Zoom details will be emailed ahead of the event.
Your hosts …
Fawz Farhan, The Botanical Pharmacist and founder of the All Being Well Project, is a wellbeing coach and registered pharmacist with a specialist interest in nutrition and plant medicines. She regularly runs her Wild Wellbeing Walks in South East London where her mission is to empower people in self care through a mix of nature, nurture and science.
Paula Sharp is a Nutritional Therapist & champion of Simple Living & Whole Foods as a way of life. She now lives in Whakatane, New Zealand with her family. She consults 1.1 with clients in NZ, the UK & Europe on nutrition & mindset. Her mission is to empower women's health & wellbeing.
To sign up to this fantastic workshop click here, tickets are $20.00