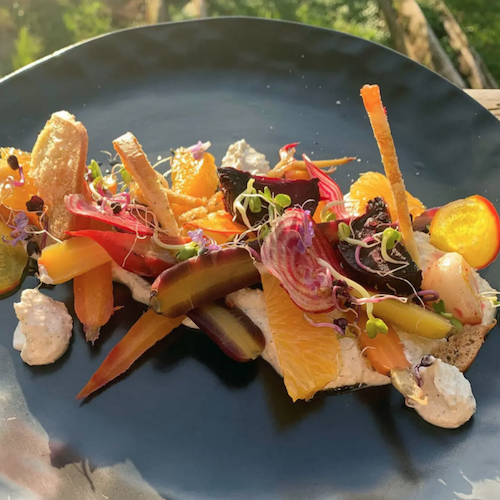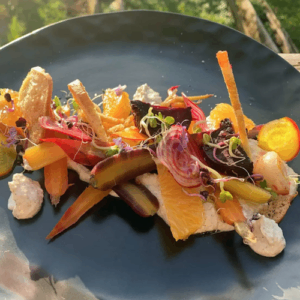 This inspired salad recipe from The Hemp Farm chef is a work of art. The different textures and flavours from the combination of roasted vegetables, fresh citrus segments, bread crisps and hemp hearts along with the goat's cheese cream is amazing!
Roasted Beetroot, Carrot & Citrus Salad
Serves: 4 starters or 2 mains | Cook Time: 40mins
Ingredients:
2 Baby beetroot (mixed varieties)
 2 Baby carrots (mixed varieties)
 1 Garlic bulb
 200g Goat cheese
 ½ cup Hemp Hearts
 4 Fresh thyme sprigs
 2 tbsp Apple cider vinegar
 ¼ cup Water
 150ml Hemp seed oil
 1 Orange – segmented
 1 Grapefruit – segmented
 1 Baguette or ciabatta – frozen for crisps
 Micro greens for garnish
Directions:
Pre heat oven to 180'c. On a roasting tray lined with baking paper place beets, carrots and garlic (cut the top off the garlic before roasting), drizzle with a little hemp seed oil to coat, season with flaky sea salt and pepper.
Cover with another piece of baking paper then foil and crimp the foil to the tray so it steam roasts for around 25-30min. Remove from oven and remove foil, allow to cool on the side of the bench.
Poke with a fork to test that they are cooked through, if they slide off the fork they are done.
After cooling you can peel or remove the skin (use gloves so you don't stain your fingers), you can also use a small knife to scrape away the skin and lightly rinse in a bowl of cool water, squeeze out roasted garlic.
Then slice carrots & beets length ways. Set aside in the fridge to cool.
Remove your frozen bread from the freezer and using a bread knife slice thinly 12-15 slices for the bread crisps, around 5mm thick.
Lay out on a baking tray lined with baking paper and drizzle a little hemp seed oil over them and season with salt & pepper. Fan bake on 150'c for around 5-6 min on the middle shelf of your oven, watch it because they will cook quickly – don't burn them!
Hemp heart & goat cheese cream:
Add to a blender or bullet:
200g Goat cheese
½ cup Hemp hearts
2 Tbs Apple cider vinegar
¼ cup Water
4 x Fresh thyme sprigs (no stalks)
Blitz up all ingredients until it looks like sour cream. Taste, season if required, set aside.
The Assembly:
You should have enough to plate up 4 starters, or 2 mains.
Using a dessert spoon start with 2 dollops of hemp cream on the bottom of the plate and using the back of the spoon smear the cream across the plate from one side to the other, arrange the roasted carrots, beets and citrus segments on top then poke in bread crisps standing up, drizzle the dish with a little hemp seed oil, sprinkle with micro greens and serve.
To find out more about the health benefits of hemp seeds click here. Check out our blog for other recipes incorporating hemp hearts, such as Hemp Heart, Harissa & Maple Roast Carrots or Hemp Heart Crusted Tofu.