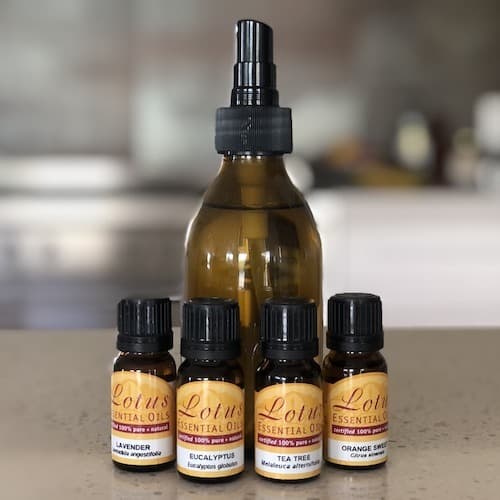 During hot weather it is especially important to be aware that these are ideal conditions for bacteria to multiply. Make sure everything is covered and in the fridge, and if you are cooking things like chicken make up this spray to keep on hand in the kitchen for surfaces and chopping boards.
It's also great as a quick hand sanitiser if you are out and about, and a good spray to keep in the loo as an air-freshener and surface bug killer.
Natural Antibacterial Spray
1 cup Filtered Water
18 drops Sweet Orange Essential Oil
10 drops Lavender Essential Oil
8 drops Eucalyptus Essential Oil
8 drops Tea Tree Essential Oil
Pour water into a spray bottle. Blend essential oils in a glass jar. With an eyedropper add 8 drops of this base to the spray bottle. Spray on surface and let set for at least 15 minutes. No need to rinse. Keep the base oil mix in a dark-coloured glass bottle in the cupboard and use to mix up more spray as you need it.