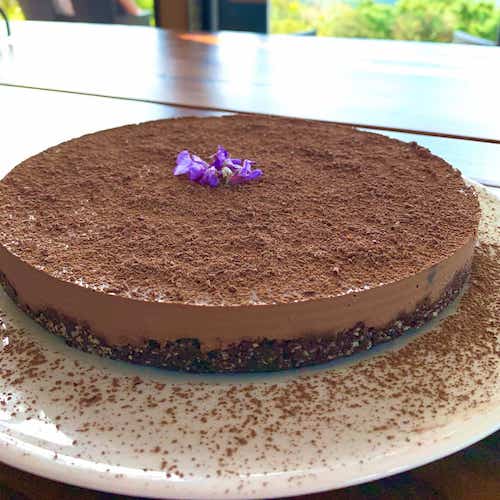 You can't help but come back for second helpings of this delicious dessert!
Last year I had the absolute pleasure of attending Yoga Paradise Retreat in Waipu with a lovely group from Kanuka, our local yoga studio here in Hobsonville. The experience was totally rejuvenating and a lot of fun … the property is stunning with beautiful gardens and views out over the hills to the beach .. and the food was incredible!
Each day's menu was written up on the blackboard and we were always pleasantly surprised with the variety and deliciousness of the vegetarian and vegan dishes.
If you are looking for a weekend or a week away to reset, relax and revive they have many different workshop and retreat options on their website – I love the sound of Sourdough Sundays where you spend the day learning the art of making sourdough bread (I totally need help in this area) along with two yoga sessions and vegetarian lunch.
This cheesecake is one of the delightful deserts at Paradise, enjoy!
Raw Chocolate Cheesecake – without the cheese!
(Dairy, wheat, refined sugar free)
Base
100g almonds
150g hazelnuts
100g raisins and dates
3 Tbsp maple syrup
4 Tbsp cocoa powder
1 tsp vanilla essence
Pinch of salt
Filling
150g cashews
70g macadamia nuts
6 Tbsp maplesyrup
4 Tbsp cocoa powder
125ml almond milk
160ml coconut oil
1 tsp vanilla essence
½ tsp salt
‍Method
Soak cashews and macadamia nuts for 2 hours then rinse well
Line a 20 cm wide loose bottomed cake tin with greaseproof paper
Whizz base nuts in a blender then add rest of base ingredients
Press the mixture into the cake tin and chill for at least 1 hour
Add all the filling ingredients to blender and blitz until smooth and creamy
Pour filling over the base and chill for a minimum of 2 hours
Remove from fridge and grate dark chocolate over the top before serving.
‍