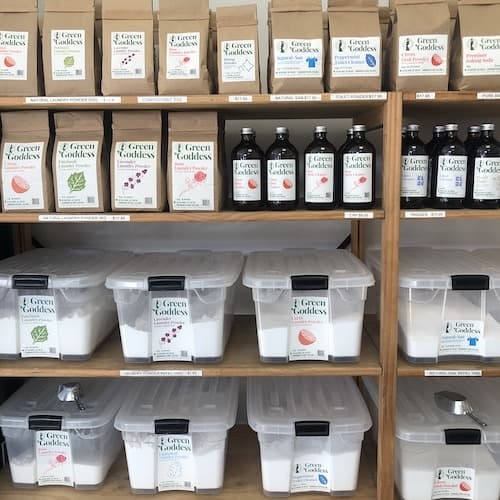 GREEN GODDESS STORE & REFILL HUB
Unit 3, 3 WORKSPACE DRIVE, HOBSONVILLE
All products online are available in store.
For address details and map click here.
Green Goddess Products available in refill
Laundry Powder Concentrates; Rose, Lavender, Patchouli, Citrus, Unscented
Natural-San Soaker & Stain Remover
Laundry Liquids; Lavender, Citrus, Unscented
Bluing Powder
Lemon Dish Washer Powder
Peppermint Toilet Cleaner
Premium Baking Soda (food grade)
Premium Soda Ash
Premium Oxy Bleach
Premium Borax
Premium Epsom Salts
Double Strength White Cleaning Vinegar
Cleaning Pastes, Rose & Peppermint
Antibacterial Spray
Citrus Spray Cleaner
Rose Spray Cleaner
Glass Cleaner
Mould Magic, Mould Inhibitor
Hemp & Rose Liquid Castile Body Soap
Hemp & Eucalyptus Liquid Castile Cleaning & Dish Soap
Hemp & Coconut Unscented Liquid Castile Soap
PRICING
All per 100g or 100ml
Laundry Powder Concentrates $1.60
Natural San, Dish Powder, Toilet Cleaner $1.60
Spray Cleaners and Laundry Liquids $0.80
Hemp Castile Soaps $3.00
Premium Ingredients – Powders $1.40
Double Strength Cleaning Vinegar $1.10
Bluing $1.45, Cleaning Pastes $3.95, Antibacterial $2.50
Sign up to our newsletter for Refill Hub Specials that run throughout the year.