WIN ONE OF THREE GREEN GODDESS HOME CHANGE OVER KITS!
Each kit is worth $164.55 and we have three to give away.
We have officially launched our new Green Goddess Facebook page and we'd love for you to join us there.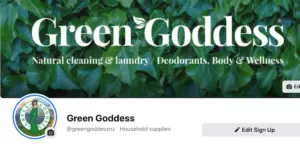 HOW TO ENTER
Step 1    Follow our new Green Goddess Facebook Page HERE
Step 2   Sign up to our Newsletter HERE  
Step 3   Tag a friend on the post pinned to the top of our new page, the more tags the more entries
If you are already signed up to our newsletter and our new Facebook page all you have to do is tag a friend on the post on our new page to be in the draw. The more tags the more entries.
We will be drawing the three winners at 1pm on 1st February, all winners will be notified in our weekly newsletter that goes out each Wednesday in the afternoon.
Thank you all so much for your support … it's been an interesting couple of years and because of our loyal customers we are still here, we'd love to get the word out to more people … there are natural alternatives to everyday products that work.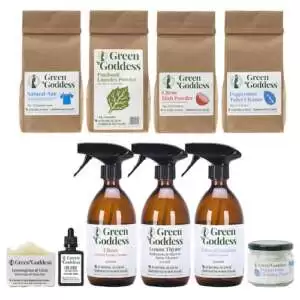 GREEN GODDESS HOME CHANGE OVER KIT INCLUDES …
Multipurpose Surface Spray Cleaner 500ml – Natural antibacterial spray cleaner for surfaces, spray and wipe clean. Choose from Citrus or Rose.
Glass & Stainless Spray Cleaner 500ml – Natural glass cleaner, for sparkling clean windows.
Lemon Thyme Bathroom & Shower Spray Cleaner 500ml – Hypoallergenic, antibacterial, anti fungal spray. Hygienically cleans bathrooms, showers and toilets.
Cleaning Paste 300gm – Brilliant for tough cleaning, use on tiles, baths, sinks etc. Choose from Peppermint or Rose.
Citrus Dish Wash Powder 1kg – Totally natural dish wash, septic and grey water safe. For machines only.
Lemongrass & Lime Dishwash and Stain Remover Bar – A fantastic zero-waste alternative to regular dishwashing detergent. The citrus essential oils are naturally antibacterial and anti-fungal, they also have superior grease-cutting power for clean hygienic dishes and stain removal.
Laundry Powder 1kg –  Our most popular product. Tough on germs but gentle on clothes. Only need 1Tbsp needed per average load. Choose from Rose, Patchouli, Citrus, Lavender or Unscented for super sensitive skin.
Natural-San Oxygen Soaker 1kg – Brightens and whitens, removes stains, safe for colours.
Fresh Mint Loo Ease 30ml – Seals in unwanted smells in the toilet.
Peppermint Toilet Cleaner Powder 1kg – Cleans and deodorises your toilet beautifully, another best selling product.
Prize packs will be couriered to the lucky winners.
All winners chosen randomly 
This is what our new page looks like, like this page to go in the draw …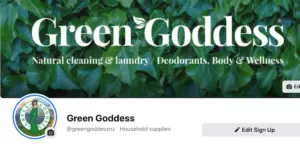 This is the old page that will eventually be shut down …