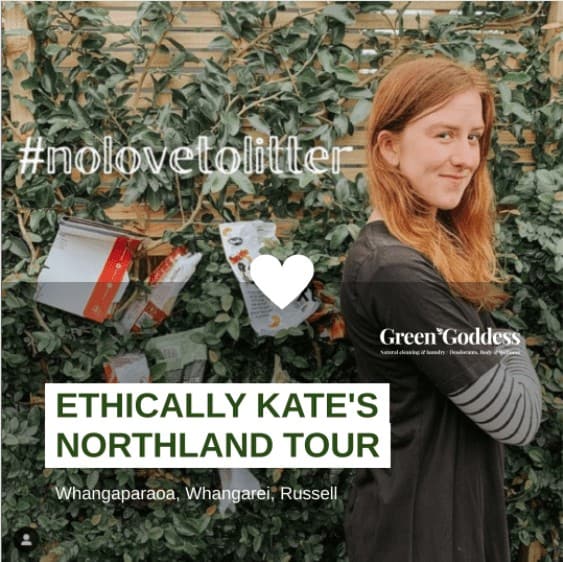 We are so excited to be sponsoring Kate on her Northland Tour next month! Kate is an educator, activist, and blogger who advocates for daily habits that respect and protect people and the planet.
If you can get along to one of Kate's events in Whangaparaoa, Whangarei or Russell between the 14th – 19th July you won't be disappointed. Grab a friend and have a fun evening out learning about how you can be more conscious consumers while you enjoy gluten free, vegan nibbles + juice (included in your ticket price).
Venues and Dates:
Two Spoons Cafe, Whangaparaoa: July 14th, 7-9pm
Treat Cakes & Pastries, Whangarei: July 16th, 7-9pm
Bay Light, Russell: July 19th, 7-9pm
Click to purchase tickets here.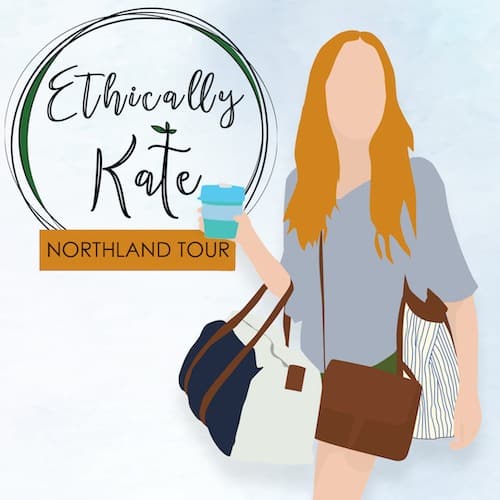 From Kate …
"I'm Kate. Ethically Kate. An eco lifestyle blogger and educator.
Living with less waste and making ethical purchases is hard when life is hectic. I totally get it. I use positivity and leading by example to show others how simple it can be to live a more sustainable lifestyle.
In November 2020 I went on tour around Aotearoa New Zealand. I held 11 sell-out events and I am FINALLY bringing this event to the north of the country!
The purpose of these events:
– Bring people together
– Inspire people to live a fulfilling life and make decisions that respect people and the planet (aka. a sustainable lifestyle)
– Meet my incredible online community in person!
Through story telling and interactive speaking, I will gift you tools and positive habits to take away with you and instil in your life, no matter how chaotic it gets.
Click to purchase tickets here.
BYO reusable napkin please!
Your ticket includes gluten free, vegan nibbles + juice provided by Chia Sisters!
$2 of your ticket will be donated to Para Kore; a Māori zero waste organisation with a kaupapa (plan, purpose) based on whakapapa (genealogy) to Papatūānuku (the land). They are committed to achieving a zero waste Aotearoa.
NOTE: All venues on tour are accessible for wheelchairs. If you require particular assistance or information about the event, please contact me directly."
Proudly Sponsored + Supported by:
** Green Goddess ** Standard Issue ** CoGo ** All Heart NZ ** All Heart NZ ** Volkswagen ** Chia Sisters **
Click to purchase tickets here.
Kate is also helping get the word out about the #nolovetolitter campaign with @uyo.nz
#nolovetolitter is about using the powder of saying 'NO'. All you have to do is give no love to litter. Don't like it, don't post it and don't share it. Simply ignore it.
This is a brilliant idea with so many people now on social media and Instagram in particular. This is from @uyo.nz …
"If brands and influencers see we don't like it, and see their numbers drop, they'll stop posting it. Branded litter especially will slowly but definitely start to lose its power as a marketing tool. It will become weird. Vilified. It will be abnormal. Wrong. And that's half the battle won. Reuse will be the new normal. Branded coffee cups will be back to being pieces of trash. Status coffee cup branding will be bye bye."
This July (and for ever after) give #nolovetolitter
For July you can make #nolovetolitter your pledge. Post about your pledge and ask others to do the same. Tag @uyo.nz and @plasticfreejulyaotearoa or @plasticfreejuly and they'll share your posts.