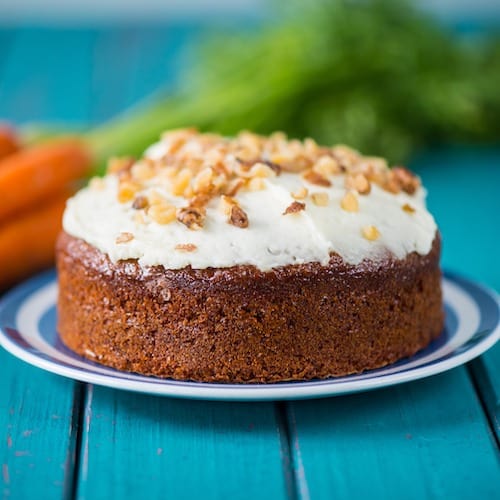 This week we have another delicious plant based recipe from Mana Retreat in the Coromandel.
At Mana they serve an incredible array of vegetarian food with a good selection of vegan options. They grow a lot of the fruit, vegetables and herbs used in many of their recipes.
Enjoy a slice any time of the day, delicious with a side of coconut yoghurt.
Eggless Carrot & Walnut Cake
SERVES: 8–12. You can also use non-gluten free ingredients if you prefer.
Ingredients
vegan, gluten-free margarine, for greasing
225 g/8 oz gluten-free self-raising flour
2 tsp gluten-free baking powder
115 g/4 oz brown sugar
2 tsp ground cinnamon
1 tsp ground nutmeg
85 g/3 oz walnuts, roughly chopped
225 g/8 oz carrots, grated
125 ml/4 fl oz maple syrup
125 ml/4 fl oz rapeseed or rice bran oil
115 g/4 oz vegan and gluten-free cream cheese
55 g/2 oz vegan and gluten-free margarine
225 g/8 oz vegan and gluten-free icing sugar
Method
Preheat the oven to 160°C/325°F/Gas Mark 3. Grease an 18-cm/7-inch round, loose-based cake tin and line with baking paper.
Sift the flour and baking powder into a large mixing bowl. Stir in the sugar, cinnamon, nutmeg and walnuts and mix well.
Stir the carrots into the dry ingredients, along with the maple syrup and rapeseed oil, and mix well.
Spoon the mixture into the prepared cake tin, smooth the top with a rubber spatula and bake for 1 hour, or until a skewer inserted into the centre of the cake comes out clean. Leave the cake in the tin to firm up for 10 minutes, then transfer to a wire rack and allow to cool completely before frosting.
To make the frosting, beat the cream cheese, margarine and icing sugar together until smooth. Spread the filling generously on the top of the cake, and on the sides too if you like. Leave to set before serving.
Original recipe from Vegan & Gluten-Free Baking part of Parragon's range of Love Food cookbooks.