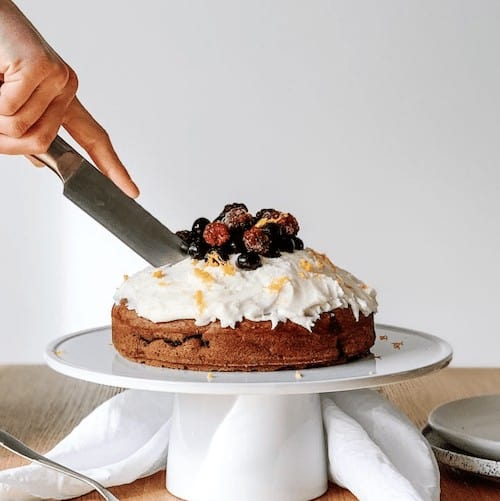 I have loved following Tess Eden, otherwise known as Eden Vegan, on Instagram and have been totally inspired by her fabulous recipes – you may recall us sharing her Jackfruit Recipes back in September last year.
Well here is another delicious baked goodie for you to try – perfectly timed with berry season. Let us know what you think of this recipe.
For more of Tess's recipes and plant based living tips check out her website eden-vegan.com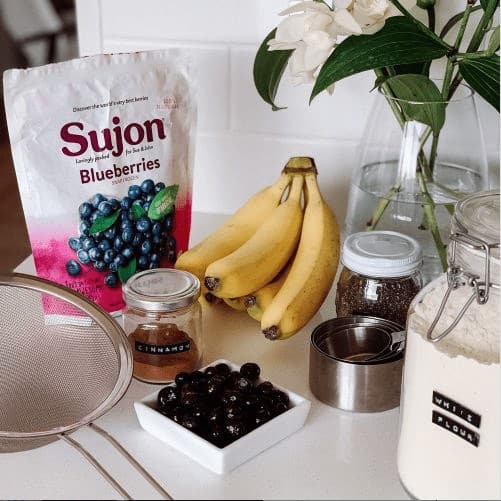 Eggless Blueberry Banana Cake
Cake batter:
2 cups plain flour
1 tsp baking soda
1 tsp baking powder
Pinch of salt
2 tsp cinnamon
¼ cup of brown sugar
3 ripe bananas
¾ cup of oat milk
¼ cup coconut oil
1 tsp vanilla essence
1 Tbsp chia – 2 Tbsp water "Chia Egg"
2 Tbsp apple sauce
½ cup blueberries
1 Tbsp flour
Icing:
½ cup icing sugar
Juice of a lemon
¼ cup of butter
Rind of one lemon
Fresh berries to top
Method:
Grease a 6inch cake tin and pre heat the oven to 180 degrees.
Sift the flour, baking soda and baking powder in a large mixing bowl. Add a pinch of salt. Fold with a wooden spoon before adding brown sugar and cinnamon.
To create a 'Chia egg', mix 1 Tbsp of chia seeds with 2 Tbsp of water in a small ramekin and set aside to thicken.
Take the three ripe bananas and place into the food processor. Pour in oat milk, melted coconut oil and vanilla essence. Blend on high for 30 seconds until well combined. The mixture doesn't need to be fully smooth as it is nice to have some banana chunks.
Once blended fold into the mixing bowl with the dry ingredients. Add in the chia 'egg' and apple sauce, mixing until well combined.
Toss ½ cup of fresh blueberries in 1 Tbsp of flour before adding to the cake batter. (this will stop them from sinking into the cake).
Pour batter into the cake tin. Tap against the bench top to get rid of an air pockets and place into the oven to bake for 40 minutes.
Once fully cooked, leave to cool in the tin. After a few hours, place on a wire rack to add icing and cake toppings.
For the icing, mix together icing sugar, lemon juice, vegan butter and blend with a stick mixer. Scoop onto the cake with a butter knife.
Garnish with fresh blueberries, boysenberries and lemon rind.
Tess x