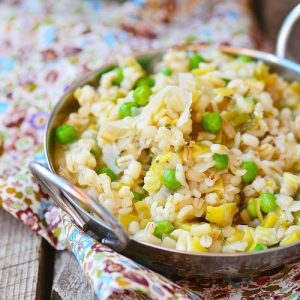 Now that the temperature has dropped, I feel like eating comfort food: hearty soups, pasta bakes, risottos, and homemade veggie shepherd's pies are always top of my list when winter is approaching.
Reading through Mother's Little Helper, I came across this recipe for vegetarian risotto that's made with Pearl Barley instead of rice. The barley gives the dish a lovely nutty flavour and nutrition wise adds selenium, magnesium, niacin, thiamine, and antioxidants, and it's a great source of fiber too.
I've changed the recipe a little from the book and added in a couple of vegetables which adds to the flavour and nutrient content. It's still a very easy barley risotto to make, enjoy.
Easy Vegetarian Barley Risotto
1 Tbsp Coconut oil
1 Finely chopped onion or 1/3 of a leek
2 Finely chopped garlic cloves
2 Cups pearl barley
1 Bay leaf
7 Cups vegetable stock
1/2 Small pumpkin
2 Kumara
1/2 Cup dehydrated peas
Optional, Handful of silverbeet, hemp hearts
Put the oil in a saucepan and sauté the onions/leeks and garlic until they are clear. Do not burn or brown them. Wash the barley and add to the pot with the bay leaf and the stock. Cover and bring to the boil, then reduce heat, and simmer uncovered for approx 35-40 minutes, stirring occasionally, until the barley is swollen and the stock is absorbed.
While the barley is cooking, peel the pumpkin and kumara and chop into small cubes, thinly shred the silverbeet if using. Boil the pumpkin and kumara until cooked, take out of the water and then cook the peas according to the packet and add the silverbeet in at the end if using, cook until tender. Drain but reserve some of the water for your barley if needed.
Remove the bay leaf from the barley, stir in all of the vegetables and season with salt and pepper. Add a little reserved water if needed.
Serve with a sprinkle of hemp hearts for an extra protein boost.