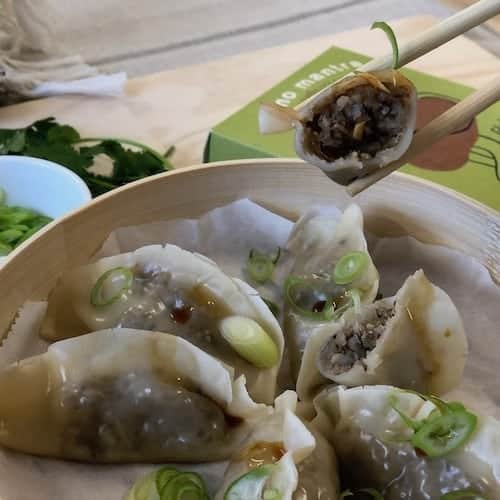 This week "What We Are Loving" has inspired our recipe of the week. Amino Mantra share with us a delicious recipe for Caramelised Garlic & Chive Dumplings showing just how versatile their vegan patties are.
This is an easy plant based meal that I'm sure you'll enjoy making and best of all eating.
Caramelised Garlic & Chive Dumplings
Difficulty Level: Medium
Total time: 25 mins
Serves: 12 dumplings (2 meals x 6 dumplings each)

Ingredients:
Dumplings
– Amino Mantra Caramelised Garlic & Chives Plant Patties 2 patties
– Ready-made Dumpling wrappers 12 sheets
– Cornflour (for slurry) 20 g
– Water (room temperature – for slurry) 50 ml
Garnish:
– Freshly sliced Spring Onion 1-2 stalks
– Fresh Coriander Sprig 1-2 sprigs
– Garlic (peeled & finely chopped) 1 clove
– Coco-Amino Soy Sauce 60 ml
Steamer setup:
– Steamer Basket 1
– Baking paper (cut into circle to match steamer basket) 1
– Cooking pot (diameter same as steamer basket) 1
– Water 1.5 Ltrs
Method:
In a small bowl, prepare slurry by mixing cornflour & water together. This will replace traditional egg wash that is used to seal the dumpling wrappers after stuffing them.
In a pot, bring 1.5 Ltrs of water to a boil. Lower the heat and let it simmer till dumplings are ready for steaming. Line the steamer basket with baking paper and keep it ready.
Cut 1 Amino Mantra Caramelised Garlic & Chives plant patties into 6 equal pieces. Place 1 piece of the patty in the middle of 1 dumpling wrapper. Dip your finger into the cornflour slurry and apply the slurry to the edges of dumpling wrapper.
Fold the wrapper over so that patty stuffing is in the middle and completely covered. Pinch the edges together to seal them more firmly. Place the prepared dumpling into lined steamer basket. Prepare 6 dumplings in total and arrange them evenly into the lined steamer basket.
Close the lid of the steamer basket and carefully place it on top of the pot of boiling water. CAUTION: Steam can cause severe burns. Make sure that you are not distracted when doing this step. Steam the dumplings for 10mins.
In the meantime, slice spring onions (green part) for garnish. Mix fine chopped garlic & Coco-Amino Soy sauce for soy garlic dipping sauce.
After 10 mins, carefully open the steamer basket lid. Ensure that you always open the lid away from yourself, let the steam escape and then lean closer to check. Never open the basket lid when your face is leaning closer to it. Steam burns are nasty. If the wrapper has turned translucent & shiny, dumplings are good to gobble.
Carefully lift the steamer basket of dumplings and place it on a serving plate. Serve dumplings piping hot with soy garlic dipping sauce.
Enjoy