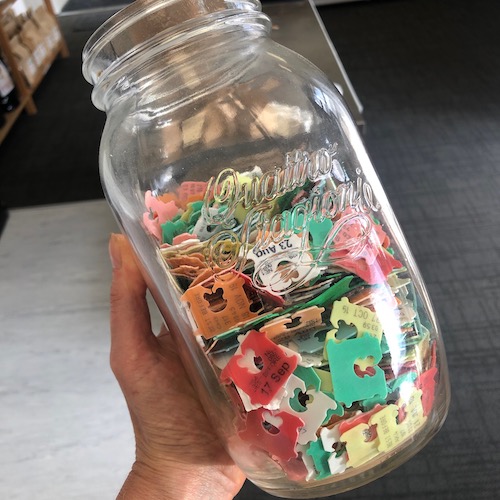 The Bread Tags For Wheelchairs community organisation is now at over 130 collection points around NZ, which feed into four central hubs in Whangarei, Auckland, Wellington and Ashburton. They have collected thousands and thousands of bread tags and saved them from ending up in land fill.
For several years we have been a collection point, however due to the Green Goddess Eco Shop & Refill Hub in Hobsonville closing we are no longer taking bread tags. The main collection hub for Auckland is now in Riverhead and they are taking tags direct, just make sure they are sorted into colours before sending or dropping them off.
There are seven colours that are accepted, once recycled they are made into an array of products and a percentage of the funds go back to the charity.
Please courier your sorted bread tags to Riverhead Scout Group, c/o 20 Alice Street. Riverhead 0820. Or you can drop off to the Riverhead Scout Hub which is on Coatesville-Riverhead Highway, look for the drop box at the front door. If you need to get in touch the email is [email protected]. Or you can phone Emma on 02102372597.
A reminder that the recyclers require the bread tags to be clean, and separated by colour.
Image of the 7 x style/colour bread tags that are accepted

Remove any stickers if you can.
Throw away any contaminants you find for example rubber bands, paper clips, buttons, any other plastic type, or any dirty/rusty bread tags.
Store the bread tags in pre-loved plastic bags, paper bags or boxes.
Please no bottles/containers with narrow necks, as these are very fiddly for the volunteers to get the bread tags out. Also please no non-recyclable containers. The central hub volunteers would be so appreciative of your assistance with the above in sorting the bread tags into colours before they get to them.
When your collection of bread tags gets too large to manage, take them to a local collection point, information on those are here. Or send them directly to your closest central hub.
The hubs are:
Auckland: Riverhead Scout Group, c/o 20 Alice Street, Riverhead 0820.
Ashburton: Nicci Glanville, 39 Allens Road, Allenton, Ashburton.
Whangarei: Kelly Vollenhoven, 1557 SH14, RD9, Maungatapere, Whangarei 0179. Phone 020 4093 7020 Email: [email protected]
Wellington: Candy Ng. Churton Park (please contact Candy before delivery) Phone 04 478 0176 or 021 0234 6906 Email: [email protected]
What happens to the recycled plastic …
There has been keen interest from several small to medium scale plastic designers/manufacturers. ODF launched their first bread tag product last year, Whale Tail Earrings and have recently expanded their range to include Piwakawaka Earrings Little Pentagonal pots and Beach Plastic I love whales Keyrings.
Two other organisations are currently in the testing/factory set up phases, so hopefully they will be successful in creating products out of bread tags very soon.
ODF donates a portion of the profit to Bread Tags For Wheelchairs in South Africa.
To find out more about ODF and to order click here.