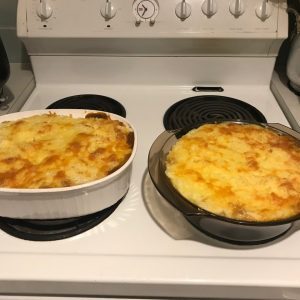 I am loving this recipe from Anita Simpson, there are variations if you have a sensitive gut, would like a vegan version, or tips on getting your fussy eater to actually eat.
"I love a good cottage pie in winter, and wanted to make a version I could share with my vegetarian friends so started using lentils as a base instead of beef mince.  There is no set recipe, I use whatever I have on hand and the quantities vary accordingly. 
I do tend towards veges that can be hidden in the dish so as not to alarm my 10 year old, a sworn enemy of all vegetables.  I have also made a vegan version, variations are included below."
(serves 8-10 – I freeze the extra portions for quick healthy lunches or dinners)
Anita's Anything Goes Lentil Pie
1.5 cups brown lentils (rinsed & drained)
6 cups vegetable stock*
2 bay leaves
2 carrots
2 zuccini
Approx. 200g mushrooms
Potatoes (I used 8 medium sized ones for this recipe, peeled)
1 onion diced (I have a sensitive gut so use the green tops of leeks instead – I keep these chopped in the freezer)
4 cloves of garlic, peeled (I use garlic infused oil instead which is gentler on my stomach)
4 Tbsp tomato paste
1.5c grated cheese (optional)
1c breadcrumbs (optional)
Olive oil
Salt and pepper, and any other seasonings you fancy
You can also add spinach or silverbeet, I had some frozen silverbeet so threw that in too.
*I make my own stock – when I'm chopping or peeling veges I put the ends in a bag in the freezer for this, and use the Bad Manners (formerly Thug Kitchen) recipe – here's a link to the recipe on YouTube. If you're offended by swearing, use this link for an alternative written recipe for vegetable broth.
Method
Add lentils, stock and bay leaves to a medium sized saucepan.  Bring to the boil, reduce and simmer until lentils are cooked, 20-30 minutes.  I like to add a bit more water towards the end and cook them until they are starting to go mushy – don't do this if you prefer a firmer texture.
Peel potatoes and put in a med/large saucepan with enough water to just cover.  Add salt, and 2 of the cloves of garlic (if you're using them), and bring to the boil, reduce and simmer until tender.
Heat 2 Tbsp of olive oil in a large frypan.  Chop or press the remaining garlic, and add with the onion (or leek) to the pan.  Saute until soft, then add the rest of the grated veges, again sauteing until soft.
Add cooked lentils and tomato paste to the veges and season to taste.  If you wish to thicken the mixture you can use a bit of cornflour or alternative mixed with water.
Mash and season potatoes as you would normally. I use butter and milk but you can use dairy-free alternatives for a vegan version.  I like to add cooked spinach or silverbeet to the potato and whiz it up with a stick mixer.  You can add some of the grated cheese the mix if you like, or if you're making a vegan version add a couple of tablespoons of nutritional yeast for some cheesy flavour.
Transfer the lentil mix into a deep roasting or baking dish, and spread the mash on top.  Use a fork to make lines in the mash (this helps the potato crisp) and cover with cheese (if using) then top with breadcrumbs (if using).
Bake at 180°C for 10 minutes or until the top is golden and crispy.
Enjoy. Anita.